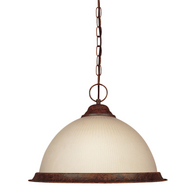 This is the pendant that I have decided on for the kitchen. One large one like this for the center and then 3 small ones to illuminate the sink and counters. You can't tell from the photo but the glass part of shade is faceted. It has an "old" feel to it without being too country. For the dining room, I have a brass chandelier that I pulled out of my son's trash can. It didn't go with their decor so they replaced it. I don't like the look of the shiny brass so I am going to paint it white and antique it. This should be interesting!
Now the search is on for a Windsor chair for the dining room. I have one antique that has been passed down in the family and I KNOW I can't afford to buy even a good reproduction. I am thinking maybe a pseudo-Windsor chair that come in a honey oak finish that I could paint. Know what I mean?
What I really need is a good yard sale in my area. They do the community yard sales in May and I don't think I want to wait that long!